We performed our multimedia-organ concert, Bach und Söhne at Bach's Wedding Church: St. Bartholomäus Traukirche, Dornheim Germany
The ties to the past in this church was thrilling to realize.  Here we were, performing our organ and multi-media event, Bach und Söhne, sharing the story of Bach's life with our 21st-century technology  in the very church where Johann Sebastian married his cousin Maria Barbara 307 years earlier.  Jeannine narrated the concert in German, the language the pastor of this village church would have used to marry Johann and Maria Barbara — another tie to the past.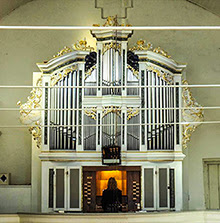 The organ, in a lovely Baroque case, was built by Schoenefeld in 1996. It is a two manual and pedal tracker instrument of 19 stops and is an historic replication of   instruments Bach would have played. The builder, by using techniques of the 17th century organ building, ties the present and future to that glorious past.  The rooms and voicings of the historic organs are founded on truths of acoustics that are still applicable today. Yet another tie that is passed on for generations.